A400 SSD
Kingston's A400 solid-state drive dramatically improves the responsiveness of your existing system with incredible boot, loading and transfer times compared to mechanical hard drives. Powered by a latest-gen controller for read and write speeds of up to 500MB/s and 450MB/s1, this SSD is 10x faster than a traditional hard drive* for higher performance, ultra-responsive multi-tasking and an overall faster system. Also more reliable and durable than a hard drive, A400 is available in multiple capacities from 120GB–960GB2.
Fast start-up, loading and file transfers
More reliable and durable than a hard drive
Multiple capacities with space for applications or a hard drive replacement
SSDs for Consumers
For desktops and notebooks
Kingston solid-state drives will make your system more responsive so it boots quicker, loads applications faster and shuts down faster. They're available in upgrade kits that include software to clone your files and OS in minutes.
Revive older systems
Solid-state drives will not only increase performance but can also be used to breathe new life into older systems. Choosing an SSD can save you the cost of buying a new PC by reviving the system you already own.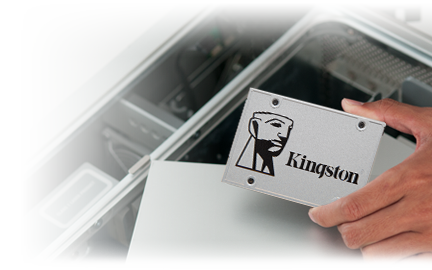 Specifications
Form factor: 2.5″
Interface:
SATA Rev. 3.0 (6Gb/s) – with backwards compatibility to SATA Rev. 2.0 (3Gb/s)
Capacities2: 120GB, 240GB, 480GB, 960GB
Controller3: 2Ch
NAND: TLC
Baseline Performance1:
Data Transfer (ATTO):
120GB — up to 500MB/s Read and 320MB/s Write
240GB — up to 500MB/s Read and 350MB/s Write
480GB — up to 500MB/s Read and 450MB/s Write
960GB — up to 500MB/s Read and 450MB/s Write
Power Consumption:
0.195W Idle / 0.279W Avg / 0.642W (MAX) Read / 1.535W (MAX) Write
Storage temperature:
-40°C~85°C
Operating temperature:
0°C~70°C
Dimensions:
100.0mm x 69.9mm x 7.0mm
Weight: 41g
Vibration operating:
2.17G Peak (7–800Hz)
Vibration non-operating:
20G Peak (10–2000Hz)
Life expectancy: 1 million hours MTBF
Warranty/support4:
Limited 3-year warranty with free technical support
Total Bytes Written (TBW)5:
120GB: 40TB
240GB: 80TB
480GB: 160TB
960GB: 300TB